Talented Artistic Balloon Décor & Custom Picture Framing Experts
Contact Remington's Balloons
Store Hours
Mon–Sat | 9:30am – 5:00pm
Hours can vary – Please call before visiting
Remington's Balloons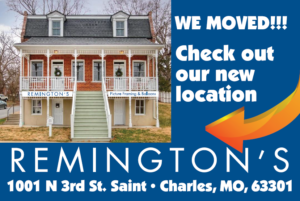 Welcome to Remington's Balloons, the balloon experts. When it comes to celebrations, we will make it fabulous with the perfect balloon arrangements and decorations to make any event unique and breathtakingly beautiful.
Whether your event is held at your home, your business, or a grand ballroom, you will make a lasting impression on all of your guests and we'll be there to help you every step of the way. We've been making events successful for 26 years with our large selection of balloons, balloon bouquets, and helium rentals. Our clients keep coming back because we work like a family, taking care of each other as we offer that same attention to our clients. We're also detailed oriented, deadline conscious, and you can be assured that we are a professional, committed staff that believes in providing the very best service to you, and our clients, within any budget.
Located in the historic town of St. Charles, Missouri, we're well-known for our outstanding work and service throughout our community. Allow us to create designs that work for your event no matter how big, small, elegant, or intimate, as no job is a challenge for us. We plan all the designs for any occasion from weddings, corporate events, and high school events, to big and small parties, and larger conference events like the ones held at Lambert International Airport. We even offer helium tank rentals to anyone no matter the size of the event, size of your business, or delivery for short or long term, and we'll customize your rental, charging based on the amount of helium for your specific needs. We've decorated for a variety of events with over 7,000 projects, and counting, under our belts. Let us bring the beauty, pizazz, and fun of balloon décor to any and all occasions that take your event from special to spectacular.
Do you need frames for a painting, photograph, sporting apparel, or need a frame restored, repaired, or laid out in your home or business? Remington's Custom Picture Framing is your custom framing experts with over 65 years of experience, handling all your needs from a piece of broken glass or conservation framing to family heirlooms. We have great prices and great selections with all of our services and we look forward to serving you. We love creating masterpieces of art, or framing them, for our St. Charles community, surrounding areas, and even nationwide. To have a stunning balloon arrangement for your next event, custom picture framing, or for more information regarding our products or business, give us a call at 314-602-0227 for your free estimate today!
About Us
Proudly Serving St. Charles, St. Louis & All Over the US Since 1995
Susan Berthold, owner and operator, bought the original business in 1995, bidding jobs while attending framing school. Her first job was with a country club, which escalated her balloon business, flooding into larger corporations, universities, and other country clubs, totaling over 7,000 plus projects and events. Susan and her colleague, Denver Davis, have always been very talented, creative, and detail oriented in their field, customizing every job and pre-planning each event with their clients. Their goal is to provide each client excellent customer service, going above and beyond their expectations of traditional party planning as this is something they strive for on a daily basis. Susan and Denver work in harmony to bring their clients stunning works of art in each balloon arrangement, bouquet, and custom picture frame they create. When you call or visit our store, you'll be treated like family because that is how they treat each other and their staff.
We have been serving the historic town of St. Charles, Missouri for 26 years and look forward to serving you for many more years to come. We're here to make sure your event is a smooth experience for you to enjoy and relax from start to finish, customizing each piece of balloon décor or framing project exactly to your desired specifications. For your free estimate on balloon arrangements or custom picture framing, give us a call at (314) 602-0227 today!
Sincerely,
Susan Berthold & the Remington's team
Check Out Our
Balloon & Framing

Projects

Click on images to enlarge.
Remington's has an excellent selection of balloons for any occasion you could possibly need them for. They do amazing decorating for weddings and all types of events as well. I haven't had anything personally framed here, but I have seen other's artwork framed by them and the finished product is always amazing and high quality work.
Remington's custom framed two of our paintings and it was a pleasant experience. Susan was friendly & professional and helped us in choosing the frames. The price was reasonable and the frames were completed in a timely manner as promised. Highly recommended.
Susan is a perfectionist and her balloon extravaganzas are amazing. She created an outdoor multicolored arch at the entrance of a swinging bridge for my son and daughter-in-law's wedding shower, with balloon sprays for the rootbeer float serving table... Spectacular and everything done just right.
Great place to get important stuff framed (art, diplomas, etc.) Also has local artist's artwork for sale. Cool little place.
Everything Balloons!
Balloon arrangements, décor or custom picture framing.